Announcing 4 Track Stacking Windows by Craft-Bilt
Craft-Bilt is a proud distributor for WeatherWall Stacking Windows. However, in late 2016 we decided to make own own version of this popular window. There are some minor differences in the offerings, and that is why we will continue to offer WeatherWall windows.
Here are some of the differences:
                             Craft-Bilt                                             WeatherWall
Frame Colours:  White, Sand, Earthstone                     White, Dark Brown, Sandstone
Vinyl Colours:    Clear, Bronze, Grey                              Clear, Bronze, Blue
Our vertical 4 track windows are a simple and easy way to enclose your wood framed porch or breezeway. They are very popular at the cottage but also a great way to close in a back porch.
VISTA 4 Track Under Existing Wall System
We have married our Craft-Bilt Stacking Window system with our Vista Screen Room System. You can order complete pre-fabricated wall systems with stacking windows to install underneath an existing porch or patio cover. Choose kickplate or vinyl film for the kneewall, transoms and gable areas. The wall sections are shipped assembled, ready to snap together. New quoting software quickly calculates your cost and provides a nice scale drawing.
Grand VISTA Wall System with Stacking Windows
We are also able to supply our 4 track windows pre-installed in our totally engineered Grand VISTA Sunroom. So if you need a sunroom combined with a roof system, this is the solution for you. We have detailed factory drawings and a drawing service to help you obtain building permits.
Why Are Stacking Windows Popular?
The four panels can be stacked all the way to the top or bottom of the window, yielding about 75% ventilation area. Certainly a great feature for those of you who really like the idea of a screen room.
The vinyl film used in the windows is extremely flexible, so it will be very forgiving of any transgressions by your children or guests 🙂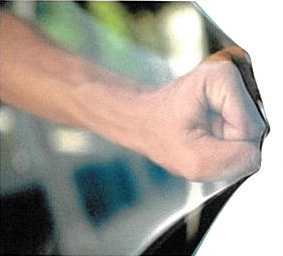 Maintenance of 4 Track Vinyl Windows
Clean the windows a couple of times per year. First vacuum loose material from the side tracks and bottom sill. Clean the frames and tracks with soap and water. Treat the vinyl film carefully:
Do not use abrasive cloths or cleaners
Use a soft cloth or micro fiber cloth and use light pressure to avoid scratching
Do not clean the windows in direct sunlight so you have time to wipe the film dry and clean
Use of any chemicals like glass cleaner, bleach or ammonia will void the warranty
Clean with soap and water or spray cleaners recommended by the manufacturer
Enjoy!
Enjoy up to 75% ventilation on warm breezy days, and when it gets a bit chilly, just close your Craft-Bilt 4 Track Vinyl Windows 🙂