Craft-Bilt Aluminum Railing Frequently Asked Questions:
What is a maintenance-free aluminum railing?
The home improvement business was revolutionized by aluminum. Gone were the rusting wrought iron railings and steel windows, gone were the rotting wood storm doors and windows. And gone was flaking paint and repainting. Painted aluminum lasts literally forever with only periodic cleaning. The paint finish, especially dark tones, may fade or "chalk" over time, but the underlying metal will last forever.
In the typical home improvement scenario, aluminum will not corrode although contact with some chemicals should be avoided, for instance, direct unprotected contact with concrete or some deck cleaners. Salts will corrode many materials including aluminum, vinyl, and wood.
Coastal environments are tough on all materials and many manufacturer warranties exclude these regions. While vinyl is considered maintenance free, from day one it is being broken down by photo-degradation. We have all seen old vinyl fences and siding that gets brittle and cracks. Unlike vinyl or composites, aluminum will maintain its strength for life.
What makes Craft-Bilt railing different?
The aluminum in Craft-Bilt railing has thicker walls than most systems and it's designed to meet loads of the building code with a healthy factor of safety. If a manufacturer wants to make more money, they will make their profiles as thin as possible.
Craft-Bilt Railing Post:
Inferior Railing Post: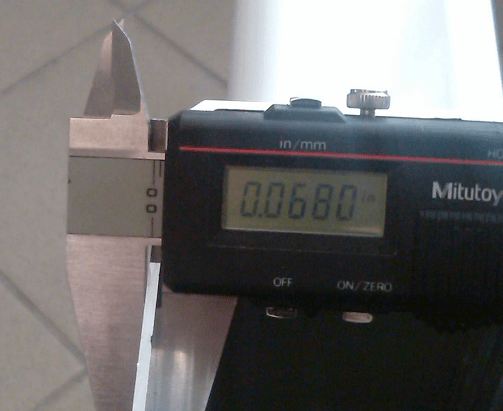 Craft-Bilt railing has been extensively tested, and the reports we provide allow customers across Canada to obtain building permits. C
Craft-Bilt railing does not use bulky, unsightly sockets or hinges to connect the handrail to the post. Our handrail and bottomrail are cut cleanly by the installer to fit tight between the posts, giving it the appearance of finished carpentry.
Craft-Bilt railing is designed and made in Canada while the typical railing you find in big box stores has arrived from overseas.
Is Craft-Bilt railing Engineered?
As mentioned above we have tested our railing extensively. It has been used on multi-floor condos and other critical applications. Our test reports are produced by a licensed professional engineer.
What colours are available for Craft-Bilt aluminum railing?
As of this writing, our railing colours are White, Sand, Earthstone, and Black.
Because our railing is often used on high-end residential projects, we also keep an inventory of un-painted (mill finish) material so that we can fulfill custom colour requests.
What kind of glass is used in Craft-Bilt aluminum railing?

We only use tempered glass which we have tested and meets the loads required by the building code. Customers usually want to enjoy the view so they order clear glass, but we also offer grey and bronze tints, as well as specialty colours.
In buildings over 3 storeys high, tempered glass can also be used, however in Ontario, if the glass is too close to the edge of the slab other types of glass must be used, like heat soaked tempered glass.
What is structural railing?
Sometimes we refer to our railing as "structural railing". This is to indicate that it is designed to meet the building code and to differentiate it from ornamental or wrought iron railing.
How do you attach a railing post to a wood deck?
If you buy a post that only comes with a thin screw, only long enough to bite the deck board you are playing with fire. The building code is very clear about point loads and other loads that deck railing must be able to withstand.
When the specified load is applied to the top of a post, it acts as a lever, applying greatly magnified loads on the post base screws and the material into which they are driven. Our testing has shown that only large and long screws driven into substantial wood blocking will suffice. When you build your deck make sure to install 2×8 blocking at all post locations, following Craft-Bilt's instructions.
What height should my railing be?
The building code calls for 36″ (900mm) high railing when the deck is 24″ (600mm) or more above the ground. When the deck is more than 72″ (1800) above ground, then 42″ (1070mm) railing must be used.
Sometimes you see a front porch with 42″ high railing even though it's not required. That was the only height they could find at their local store! But a front porch with 42″ railing looks horrible. So find a company that can provide 36" railing.
Can I use glass railing in my deck stairs?
We do not recommend glass in the stairs for a number of reasons:
Cost. The cost of glass might be wasted since you typically do not sit on your stairs to enjoy the view. Railing glass on stairs is a parallelogram shape, which costs quite a bit more than rectangles.
Movement: The bottom of your stairs typically does not have a footing. This means the stairs will move slightly when the ground freezes in the winter. The glass could break or fall out.
Measuring. Installers usually make a cardboard template. Glass manufacturers can charge extra to make glass shapes based on templates (as opposed to electronic files like DWG (Autocad) or PDF). It's not unheard of that the glass does not fit right the first time and has to be re-ordered.
Having said that, glass on stairs is certainly available.
What fasteners are used for railing posts screwed to concrete patios versus wood decks?
Unless otherwise instructed, Craft-Bilt typically supplies the fasteners as specified in our test reports. For concrete, this is a large diameter tapping screw usually 4″ long. For wood, this is a large diameter engineered screw five to seven inches long. We do not use lag screws, rather engineered screws. Engineered screws have benefits like no pre-drilling, high pull-out resistance, and consistent alloy/strength.
Do you have any plastic or vinyl parts in Craft-Bilt railing?
No! Well almost no, there are some plastic screw covers used in one of our post styles, and of course, the lens in our sconce lights is polycarbonate plastic. Otherwise, we are proud to say that all components are extruded or cast aluminum, that includes the post caps and post base covers. As you have probably seen, in other railing systems, plastic post caps and post base covers do not last.
What is the warranty on Craft-Bilt aluminum railing?
Craft-Bilt aluminum railing has a lifetime limited warranty. Contact us to get a copy or visit our warranty page to download.
Is Craft-Bilt railing pre-assembled?
Our aluminum posts are pre-assembled to the bases, but covers and caps are packed separately so they don't get scratched. Hand and bottom rails are typically sent 2″ longer than required so they can be trimmed to fit perfectly. Pickets and picket spacers are sent at the required size so they can be inserted into the hand and bottom rails with no cutting required by the installer.
What type of blade is used for trimming aluminum profiles?
Use a carbide tipped blade that is made for cutting non-ferrous metals.
Can I install Craft-Bilt railing myself?
Many, many homeowners have installed Craft-Bilt products themselves. Homeowners have given many 5 star reviews and sent photos of their beautiful completed project. But this is not as easy as putting together IKEA furniture. You must have good carpentry skills if you are going to do a nice job with any home improvement. Always make sure you are following the local building code. If you inquire as DIY on our contact form we will provide the name of a local retailer, or if one is not available we may offer to sell the railing directly to you.
How much aluminum railing cost?
Cost of Aluminum railing varies depending on your configuration. Our Aluminum Railing Cost Calculator will provide a detailed cost for your railing project.
Also you can always contact us for more information regarding DIY or installed cost in your area.