Frequently Asked Questions for Sunrooms:
What is a sunroom?
A sunroom is a pre-fabricated wall and roof system added to your home to provide added enjoyment of the outdoors and extra living space. They are made of maintenance-free materials, predominantly aluminum but also vinyl and fiberglass. The wall sections are typically custom made, no greater than five feet in width. Each section contains a side sliding window, beneath the window is the "kneewall" which is built with a solid panel or tempered glass. If extra height is desired, "transom glass" is added to the tops of the windows and doors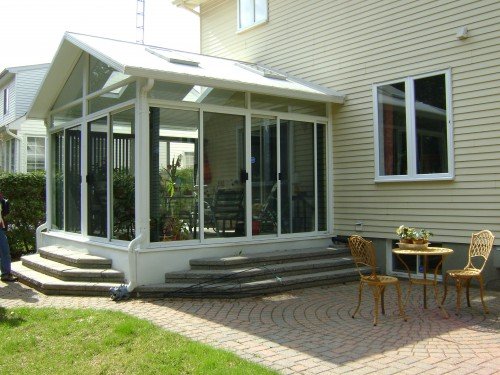 Sunrooms come in two types: three season (single glazed windows) and all-season (insulated wall and windows). Typically the roof is made with insulated aluminum panels that come in varying thickness. Thicker panels have more insulation and can span farther. Sunrooms have typically differed from solariums because they don't use glass in the roof. This line has blurred in recent years with the introduction of polycarbonate roof systems for sunrooms. Solarium walls typically have a great deal of fixed glass with the occasional casement window while sunroom walls will typically consist of corner-to-corner side sliding windows.
What is the best way to utilize a sunroom?
Sunrooms are used for many great reasons: entertainment, place to relax, room for my pets, TV room, enjoy the outdoors and seasons… the list goes on and on. Finishing touches like beautiful flooring and wicker furniture help create that perfect retreat.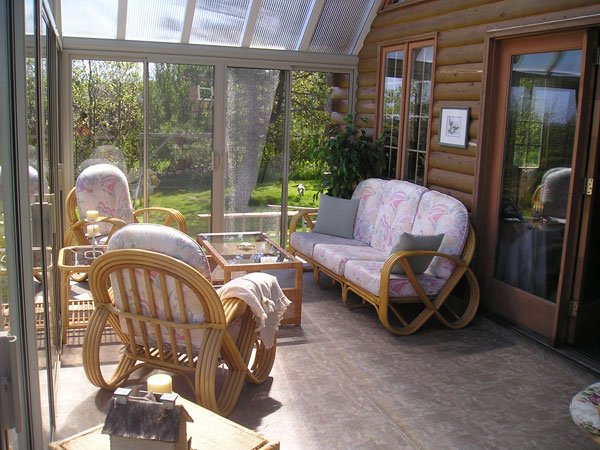 What are the advantages of Craft-Bilt's sunrooms vs. competitors?
There are many technical advantages to Craft-Bilt products like thicker wall extrusions with intelligent designs. All of our sunrooms utilize swivel header designs that support the roofs weight evenly and eliminate unsightly gaps inside the room that competitors don't address or cover with an ugly angle.
Weatherstripping is important to keep out the wind and bugs, our Grand Vista system uses ingenious concave tracks to cradle the weatherstripping while our Betterliving™ system uses mylar reinforced weatherstripping to achieve FMA certification. There are many other unique features to our rooms that you can find on our web site or let us refer you to a local contractor who can describe them to you.
How much does a sunroom addition cost?
There are a lot of variables: Is a new deck required? Would you like a three-season or all-season? Is there an obstruction, for instance, a water spigot, that needs to be moved? An installed 12 x 12 three-season sunroom may start around $20,000 while all-season sunrooms will start around $25,000-$30,000. These numbers are very hypothetical and may not take into account the footings, the deck, permit costs, or other items.
What is the return on my sunroom investment?
There have been many studies and opinions published in renovation magazines about the value of major renovations like kitchens, bathrooms, and sunrooms. Check out resources like Remodeller magazine and search for their Cost vs. Value report. Sunrooms are often in the top ten for return on investment, recouping at least 50% of your investment. There are factors that can affect your return on investment, like where you live.
But the real return on investment is the improvement in your lifestyle. Your sunroom will quickly become the favourite room in the house, your very own private retreat. You can't put a price on peace and tranquillity.
How long does it take to install a custom sunroom?
The actual installation can take as little as two days for a three season patio room or 3 days for an all-season sunroom. Additional time will be required if you are building an A-frame style sunroom, a new deck is required, a service (i.e. gas meter, water spigot, bathroom fan, etc.) needs to be moved, or there is some other complexity to the project.
Often there can be delays obtaining the building permit or zoning approval. Your contractor will not order material until the permit is issued after which you have to contend with the backlog at the factory. So if you are planning to build a sunroom and hope to enjoy it for the summer, get started early!
Can I use my existing deck for my sunroom?
If your deck was built to building code specifications, there is a good chance it will suffice. Open decks are built with a slope away from the building, so even if it is code compliant it will need to be leveled. Deck blocks will not do. Your deck needs footings, typically concrete piers deep enough into the ground to not be lifted when the ground freezes. In southern Ontario, that is usually four feet, in colder climates, it will be deeper. Imagine the damage to the sunroom or even your house when an un-footed deck heaves upwards in freezing temperatures.
Do I need a building permit for my sunroom?
Yes. Often your contractor will include the drawings and filing for the permit as part of their price to you. Contractors do not get enough credit for the time and effort it can take in getting a permit.
Can I install it myself or do I need a contractor?
A homeowner with a high level of DIY skill can tackle our Grand Vista pre-fabricated sunroom. Craft-Bilt's warranty is for properly installed products and does not include installation-related issues. Please fill out our contact form and pay attention to the notes regarding DIY. When you fill out the form you can check the DIY box, otherwise, our response will usually include the name of a local retailer.