All season sunrooms, also referred to as four season sunrooms, are meant to be enjoyed all year.
There are three season sunrooms and all season sunrooms, and there are solariums and conservatories. Most sunrooms are added to the house without removing the patio door to the house, although sometimes the door is removed, and sometimes an entire section of house wall is removed to open the sunroom completely to the house.
Heating Your Three Season Sunroom
Although all-season sunroom sales are growing, most sunrooms sold today are three season rooms. The windows are single pane glass. Three season rooms are great for sun worshippers because the smaller sashes (window framing) allow for maximum glass area and maximum ventilation. A three season room does not alter the existing building envelope.
In other words, the existing door to the home must remain, or if replaced must be a properly installed exterior door. To extend the use of their sunroom, many people will employ a space heater or even a more permanent solution like baseboard heaters.
This can be a touchy subject when obtaining your building permit. Your building permit will say something like "unheated sunroom", which to many of us means the sunroom is not open to your home and you are not using the heating system of the existing building.
After all, it is your business whether you decide to heat your three season room, no one has fooled you into thinking it has the insulation of an addition or an all-season sunroom. Heating a three season sunroom is something you only do while you are using it.
Can your three season room be comfortable in the colder months?
Think of the glass in your car, it is single pane like your three season sunroom… when the sun is out in the winter, the car is warm inside. At other times, once the engine is at running temperature, the heater warms the car up pretty fast.
But a car has good weatherstripping, and so should your three season patio room. Look for well weatherstripped windows with features like concave grooves in the frame that grip the weatherstripping on the sashes or mylar reinforced weatherstripping.
Humidity
In the winter the single pane and even insulated glass will be cold to the touch, so try to keep humidity out of the room. Moisture laden air will condensate on the cold glass. Your furnace has a humidifier, so keep the patio door closed! I recommend a dry source of heat, like a ceramic, baseboard or convection heater. Stagnant or slow moving air near the windows has more time to cool increasing the potential for condensation, so if your heater has a fan, try to aim it in a way that provides maximum air movement along the windows. A regular fan or ceiling fan can also be employed to promote air movement. When it's cold outside, keep sources of humidity in your sunroom to a minimum.
The government of Canada has detailed information about buying windows and humidity in your home.
Cooling Your Three Season Sunroom
Personally I have never seen a cooling unit in a single glazed sunroom, but I'm sure they are out there! In a well designed three season sunroom, each wall section contains an operable side sliding window. On hot days, you'll open all those windows and enjoy a nice breeze as well as the sounds and scents of the outdoors.
Heating and Cooling Your Solarium or Conservatory
The difference between a sunroom and a solarium or conservatory, is that sunrooms typically have an aluminum roof system that does not contain any glazing (although in recent years we have been utilizing polycarbonate glazing which filters out a great deal of the UV and harsh sunlight). Solariums and conservatories are typically more expensive, have much more fixed glass in the walls and they are typically open to the house. This lack of operable windows, combined with a transparent roof, and opening up the house means that heating and cooling of the existing house as well as auxiliary heating/cooling in the solarium must be carefully planned.
Very sophisticated and expensive glass must be specified in your solarium, otherwise you will not be pleased with the glare and heat gain. I have seen solariums that were so uncomfortable, the owners installed a retractable awning above it. In the past, we had customers who called about removing glass panels and replacing with solid aluminum panels, to stop the heat.
Do not confuse a single glazed curved enclosure with a real solarium. They can be unbearably hot, condensate, and since plastics have high level of expansion & contraction, they can be prone to leakage.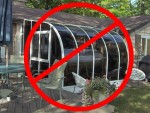 Acrylic Room Condensation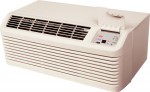 All season sunrooms, also referred to as four season sunrooms, are meant to be enjoyed all year.
Many sunroom contractors recommend electric heat/cool units which fit in the kneewall underneath one of the windows. These are modern units often with a remote control. The old wisdom was to place the unit at the last section next to the house, on the least visible side wall, so that the room looked it's best when viewed from the outside.
The problem with that is the heat is blowing across the back of your house, which is already warm, and the front of your sunroom is now a cold area. Instead, place the unit in the side wall so that it blows across the front wall. Ahh… that's better.
The worst thing you can do is not heat your sunroom enough.
Don't rely on in-floor heating only, or think that a couple of space heaters will do the job. You will be forever cursing that darn four season room, thinking it doesn't have enough insulation, when the reality is that you did not properly heat it.
If your sunroom is open to the house, do not rely exclusively on your homes heating & cooling system to condition the sunroom space, it was not designed with a sunroom addition in mind. There are certain building code provisions regarding heating that come in to play when your sunroom is open to the house that will likely mandate another heat source.
Building Code Issues Related to Heating Your Sunroom
Hopefully your local building official does not take issue with you heating your three season room. The building code has provisions for minimum insulation values for walls and windows of additions and new construction that they may believe applies to your project, Hopefully, once you explain that the room is not open to the house, in other words that the entrance door or patio door will remain, they will see that this is not a typical "stick frame" addition and those insulation requirements do not need to be applied.
Until recently, all season rooms had the same issues with three season rooms. Even when the door to the home remained in place, some building officials would apply the insulation minimums of conventional construction to the wall and roof panels of the sunroom. The walls and roof panels of an all season enclosure are not thick enough to meet those minimums. The minimum insulation value for glass however is quite low, so you could install an all glass solarium to your home, and even permanently open up the wall to the house. This was very unfair, since all season sunrooms had far more insulation than solariums.
All that changed, at least in Ontario, with recent clarifications to Supplementary Bulletin 12 (SB-12). SB-12 dealt with sunrooms and solariums but inadvertently gave an unfair advantage to solariums. The recent clarifications allow sunroom wall and roof panels to meet the same insulation criteria as the glazing. So now you can have your all season room open to the house, heat it, cool it, enjoy it! Say thanks to the Canadian Sunroom Manufacturers Association (CSMA) for their efforts in this matter.
In the End…
To me, an all season sunroom isn't better than a three season, it suits a different purpose. People who have a three season room may be more of the outdoors type, preferring the summer breeze to air conditioning, to hear the birds and view their garden. People who purchase a four season room may have requirements that dictate a more controlled environment or more year round living space.
Typically you will put in some nice flooring, maybe some wicker furniture, and you will enjoy it no matter which style of room you have… as a play room… with a coffee and the morning paper… with kids or grand kids… watching the golf game… as a room for your pets… it will quickly become the favourite room of the house.
By Bart Bremmers