What Are Four Track Stacking Windows?
The window frame has four tracks. Each track has a sliding window panel that can move all the way to the top or the bottom of the track.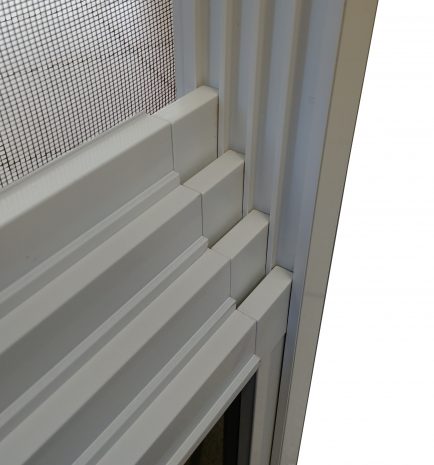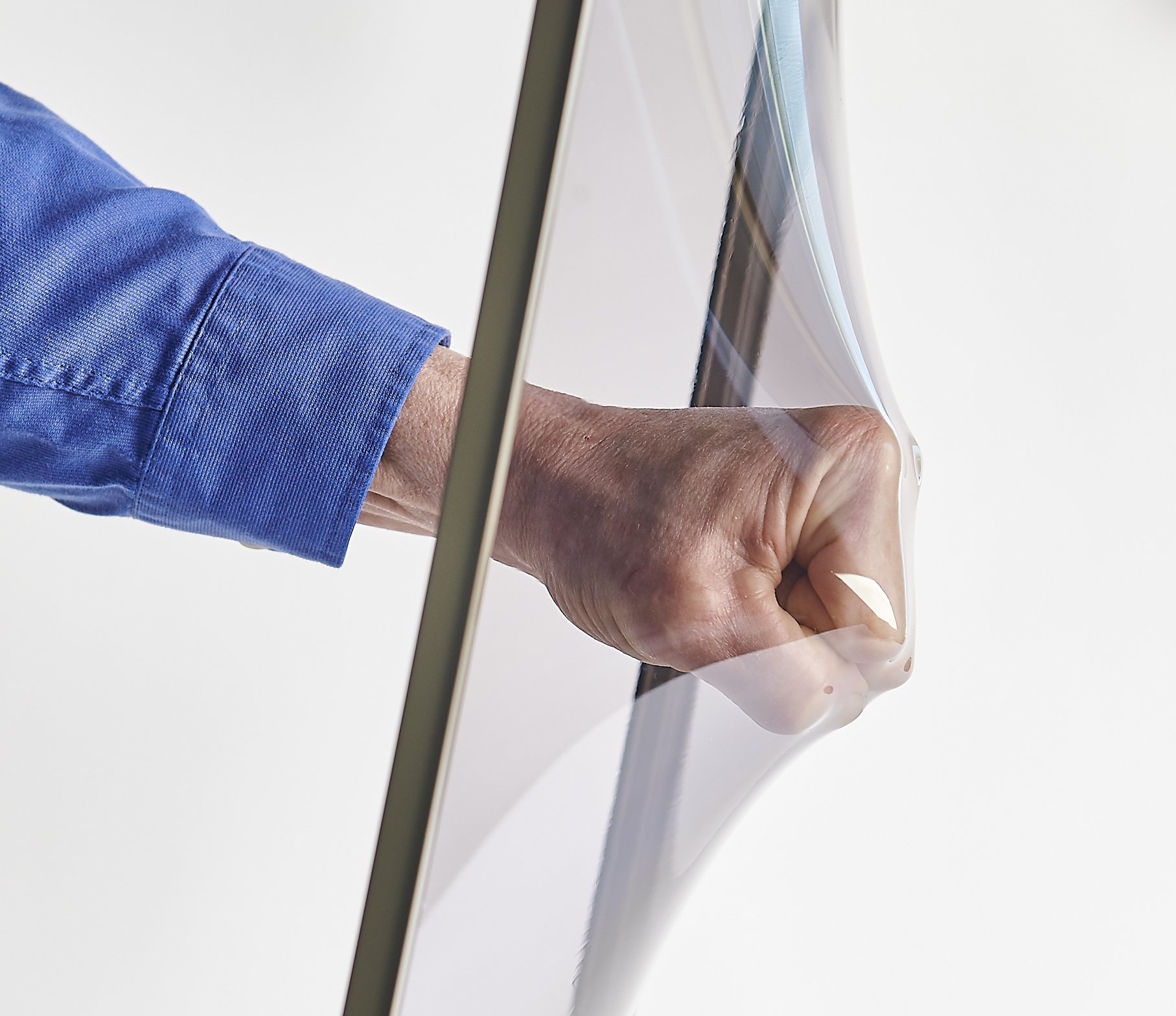 The panels are spring-loaded, so they stay wherever you put them. By stacking all the panels to the top or bottom you can get nearly 75% ventilation, great for those beautiful warm days when all you really need is a screen room. But as soon as the temperature drops, or there is a little wind or rain, you can quickly and easily extend the panels to close the window. Now you have a sunroom enclosure! Rather than use glass, the panels use a tough 10 mil thick vinyl film.
The film is available in clear or several tints and it filters out most of the harmful UV rays that can fade your furniture.
How to Turn Your Porch into a Sunroom
4 Track stacking windows by Craft-Bilt are a quick and easy way to turn your patio cover or screened-in porch into a three-season room. Craft-Bilt makes windows that can be simply installed in your existing framed openings. If your porch is held up by columns and there is no wall framing, Craft-Bilt can make aluminum-framed walls with our four-track window pre-mounted to fill the entire space between your supports.
Why should I turn my porch or backyard deck into a sunroom? That is a great question, and the answer is in this blog, "5 Ways a Sunroom Can Improve Your Lifestyle".
Four Track Windows In Existing Framework
You may have a screen porch that is already framed and able to receive the windows. Or maybe you are planning to build wooden wall frames between your load-bearing columns. 4 Track stacking windows by Craft-Bilt have a wide mounting flange, you simply put some sealant behind the flange and screw it to your opening. Ask for our installation guide.
Before                                                                 After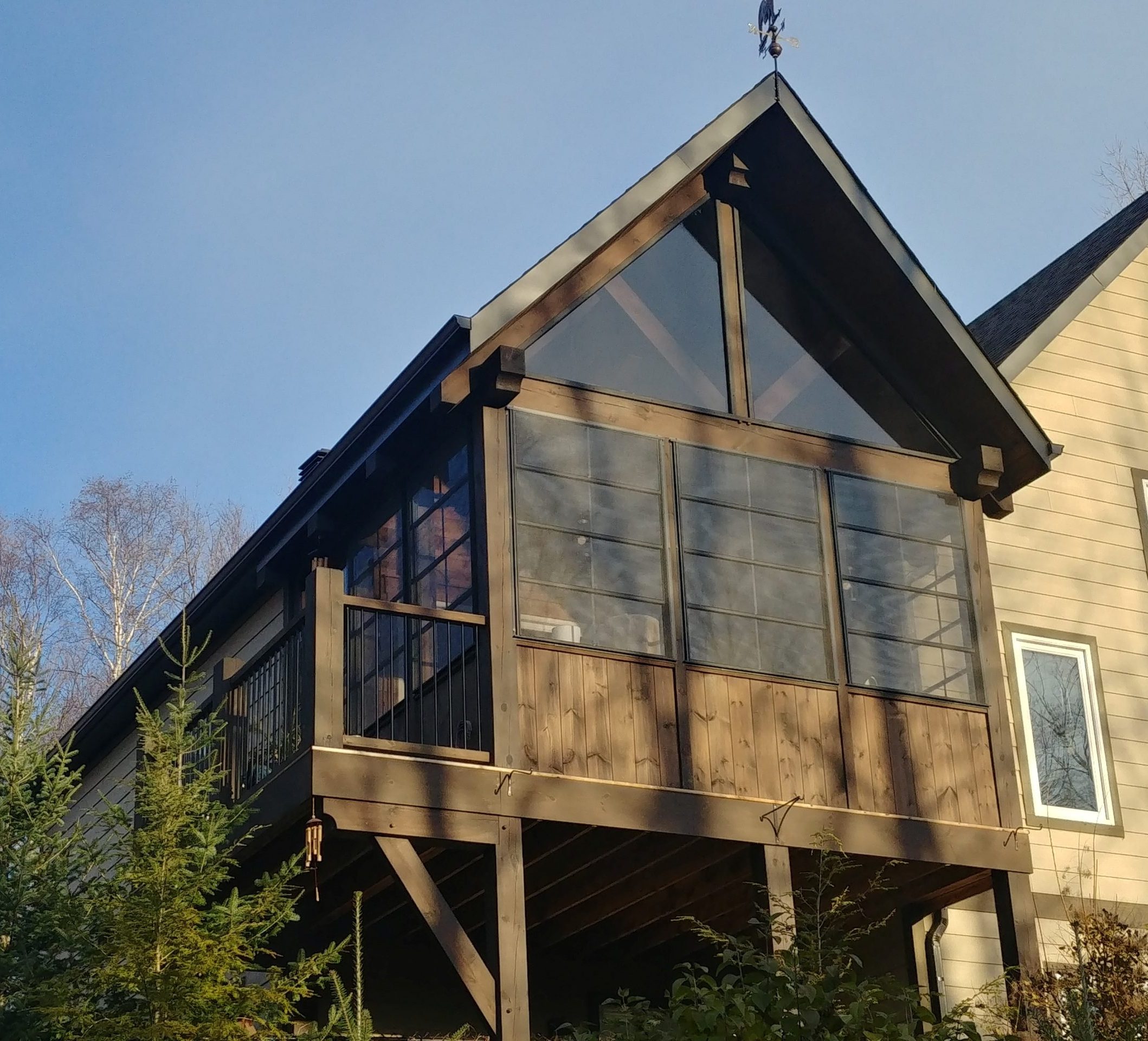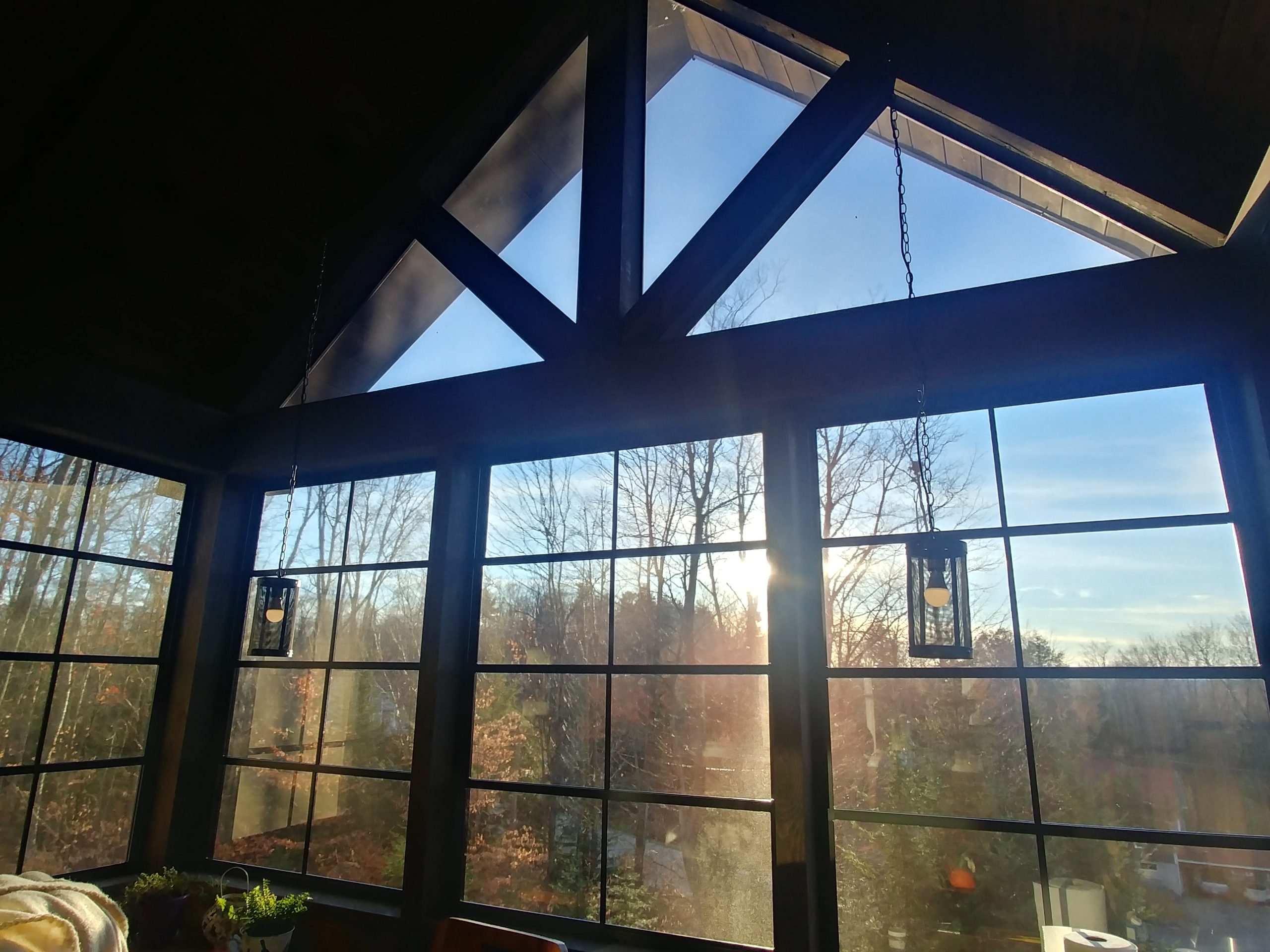 We also make fixed vinyl panels in rectangular or triangular shapes to fill your kneewall, transom or gable openings.
Sunroom Wall Systems To Fit Between Porch Columns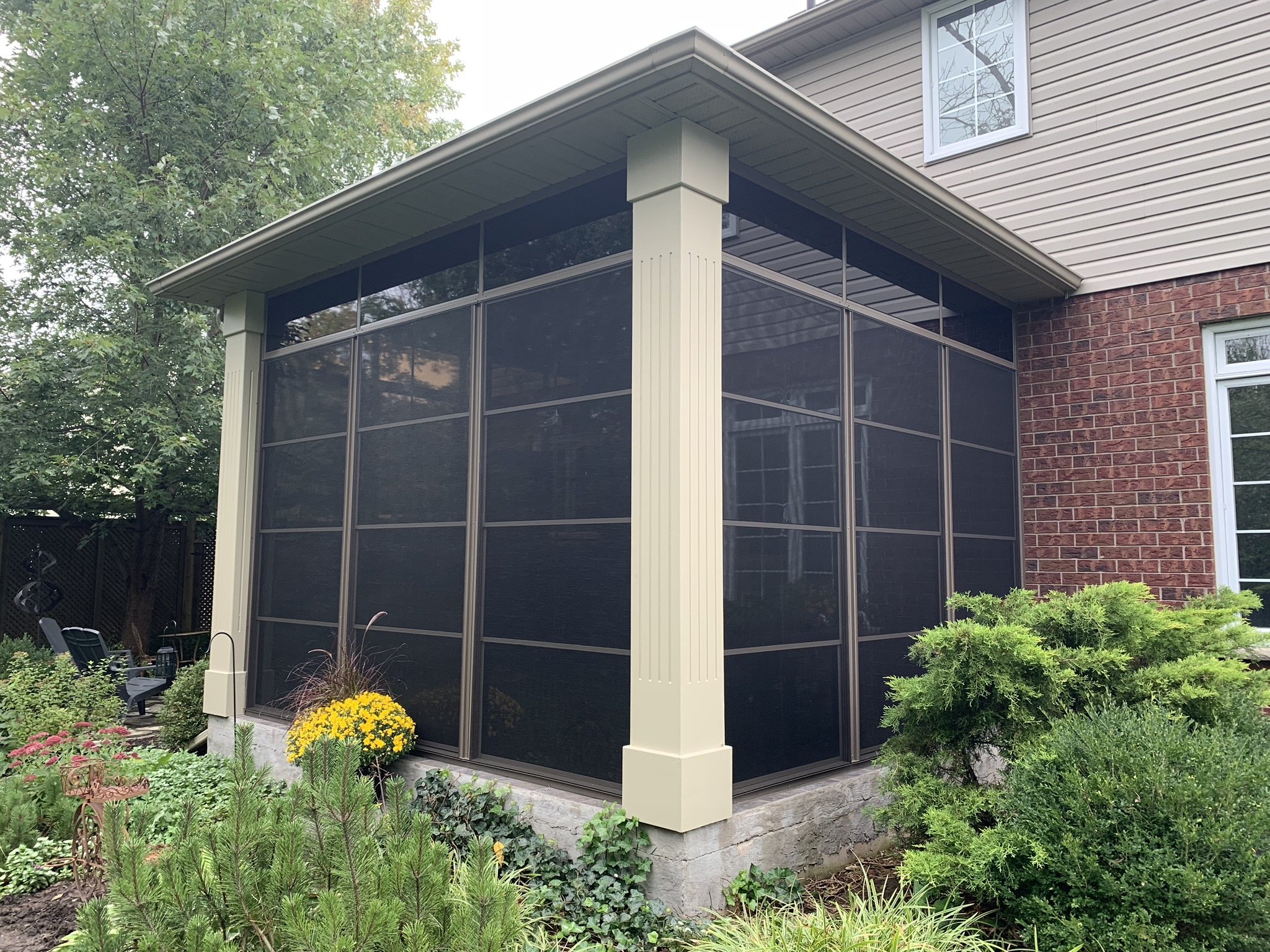 If your porch is held up by a few columns and there is no wall framing, you can elect to use our aluminum wall system. These systems are not meant to be load-bearing, so the columns and the roof must be built in compliance with your local building code. Our walls are made with maintenance-free aluminum framing with our 4 track windows pre-mounted. Your walls are custom made, they can have transoms, solid kneewall panels and other options. An aluminum track is supplied for the floor – the top and sides are held in place with our easy 2-pc snap channels.
2-pc Snap Channel: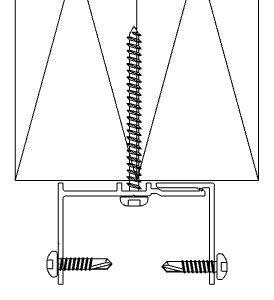 Ask for our install guide.
Some homeowners may want to "cap" the columns with colour-matched aluminum flashing. You can also trim the deck and ceiling joists with the flashing. This requires a tool to bend the flashing called a "brake". Hiring a professional to do your capping is a good idea since proper overlapping and caulking are required to make it waterproof.
How To Clean Your 4 Track Stacking Windows
Clean your windows two times per year.
Do one window at a time so you don't mix up the panels.
Carefully remove the four sliding panels (follow our downloadable instruction guide).
Vacuum any loose dirt from the frame.
Clean the frame with a mild dish soap and water solution.
Wipe the frame dry with a clean cloth.
Clean both sides of the vinyl film with mild dish soap and water solution.
Rinse with clean water.
Dry with a clean cloth.
Carefully place the panels back in the window.
4 Track Vinyl Window Cleaning Tips
Do not clean the vinyl on very hot days or in direct sunlight because the soap solution could dry before you wipe it off.
Do not use a power washer.
Hold the panels by the outer frame. Do not hold the panels by the spreader bar; it could shift or come loose.
When you slide the panels up or down they stay exactly where you leave them. This is due to the leaf springs on the side of each panel and a specific amount of friction in the tracks. Never use an oil-based cleaner or lubricate the tracks as this can cause the panels to move freely in the tracks and thus not maintaining their position. The negative effect of lubricating the tracks may be irreversible.
Aluminum framing or the paint finish can be harmed by cleaners with strong bases (alkaline), ammonia, bleach, solvents and abrasive cleaners. Use of anything other than soap and water could void the warranty.
Use of any other cleaner than mild soap and water could void the vinyl film warranty.
Contact us for our window installation guide or warranty and care document.
Join the thousands of happy homeowners who have been enjoying Craft-Bilt products for over 30 years. You will find a link to our installation guides in the footer of our web page.