Frequently Asked Questions about Aluminum Decking
What are the standard lengths for waterproof* aluminum decking?
Aluminum boards are 1″ high by 6" wide. Standard lengths are 14′, 16′, 18′, 20′, 22′ and 24′ long. On large projects, we can produce custom lengths to minimize your waste. Custom lengths are available up to 30′ long.  (subject to change)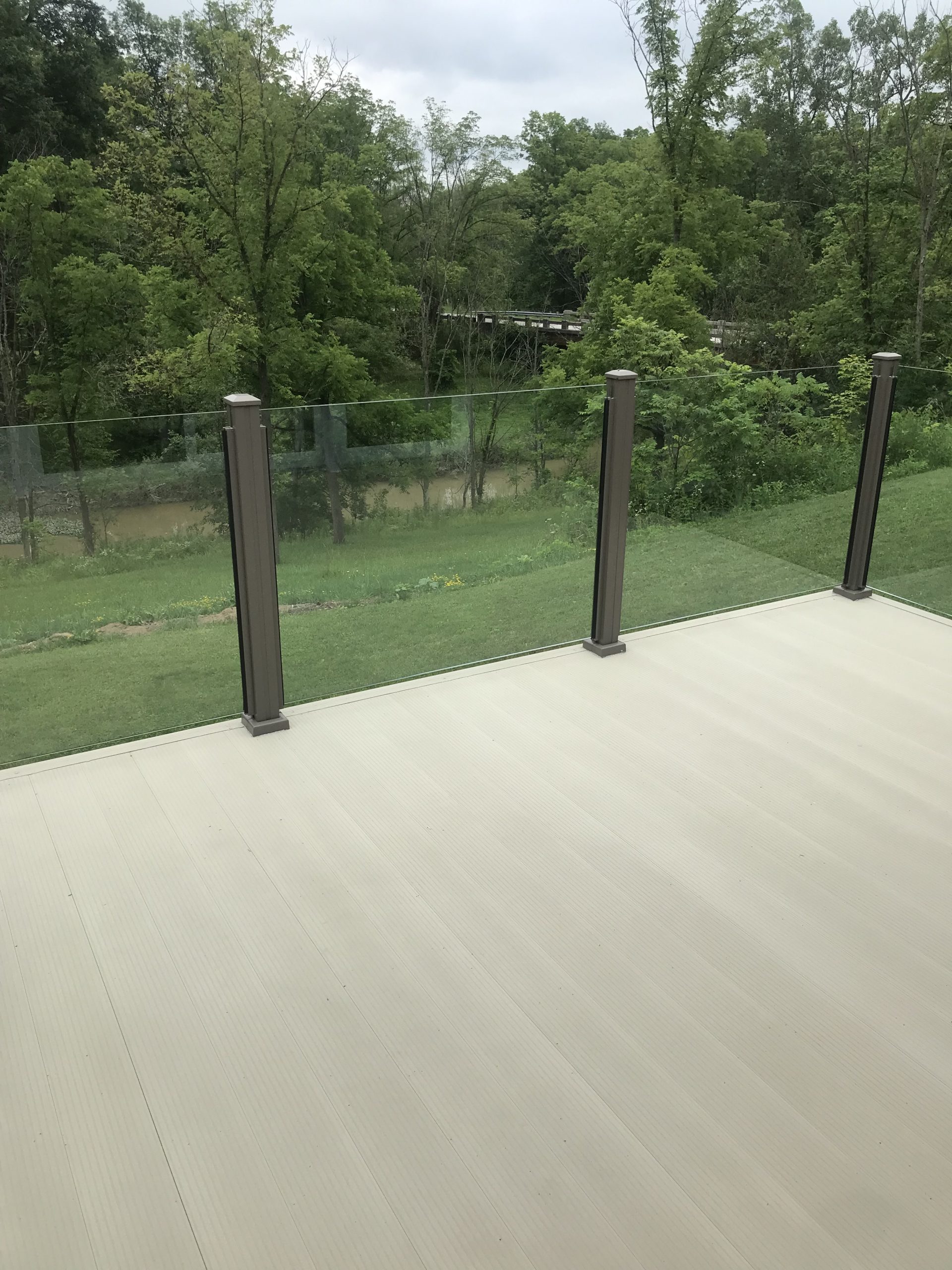 Are Craft-Bilt's locking deck boards really waterproof*?
In most circumstances, they are waterproof*. When the deck boards lock together, the joint is held under pressure by the fulcrum design of the lock. If any moisture gets past the pressure lock, there is an integral gutter in each deck board to carry it away.
In freezing climates, a warm spell may cause meltwater on the deck. If the hidden gulley is plugged with ice the meltwater might overflow the gulley and you might see some drips beneath the deck. Broom off meltwater if desired. Otherwise, you will not have any water issues as long as you follow our installation guides. Decking should not be used as the sole roofing solution over living space. There is no caulking in our deck joints, and no vinyl or rubber gasket, so you don't have to worry about a seal that could deteriorate over time. Proper flashing from the house to the deck boards is important, as it would be with any product, refer to our decking installation guides.
Visit Aluminum Decking FAQ for more.

Decking Reviews

Aluminum decking delivery was on time. Easy to install. Staffs are very friendly and best of all. It looks good and hope it is the last deck for me. It is hot in the sun but cools down quickly.
Hi Van, Thank you very much for the review. You are correct aluminum decking is cooler than plastic composite decking. We tested it on a hot day under the full sun, and you can watch the video of it on our Youtube channel: https://youtu.be/JQxb5T4J0YI: We were surprised by the results. Thanks again
---
We are very happy with our deck and the service we received from Peter E. in Whitehorse
Thank you, Peter. I'd love to see some new deck pics 🙂
---
I just wanted to let you know that we received our decking and have in mostly built, and we love it! As much as we can tell at this point we absolutely love it!
Hi Jacki, We are happy that you love your new aluminum deck which is a great product. If you can share the pictures of the deck we will be happy. Take care
---
Regarding 'canadianuser, April 16 2016, we have the same problem with our deck that was installed last summer (2018), but we have a membrane under the decking. We have leaking down all four inside walls of our garage that previously had been dry for the age of our house - 68 years. We are disappointed and hope that the defect(s) will be resolved.
Hello Ms Hill We can not find an order with your name on it, did you purchase through a contractor? If so which one? If not please provide your order details. Please call us directly at (800) 668-6430 ext 28 and we will do our best to assist you. Rob, CS Manager
---
Hi Rob/Jennifer, We just wanted to drop you a note letting you know how impressed we are with the decking material and the packaging utilized in shipping it to us. We couldn't be happier. We installed it in a day and a half and are simply waiting to flash it and install the topless glass railing. Here are a few pics of the project at mid day Friday. I'll send more once the project is completely finished. Thanks again for all your help throughout this process and getting this great product to us ahead of schedule.
Hello Greg and Mary, Thank you for the recommendation and pictures. What a lovely place. We really like the decking and glass railing job. You guys did a great job. Thank you for sharing with us.
---
I have had this decking installed for 3 years now. It is great decking, but the reason I spent a premium price for decking was to gain dry unheated storage underneath it. Last summer I finished under the deck and was thrilled with the dry space. However, when winter arrived my dry space wasn't dry any longer. I believe what happens is that ice forms in the water channels under the seams where the deck boards are joined. Eventually, water overflows the channels. An email inquiry to the manufacturer resulted in a totally impractical recommendation to had electrical heating cable to keep the channels from freezing. I would need about 750 ft of heating cable, would have to string it between decking and joists, would have to find a way to keep it in contact with the channels, and then would have to pay the operating cost every winter! How practical is that? So, if you are looking to have dry space under your decking, keep looking, this is not it.
Oh dear just noticed this review! Our instructions say that aluminum decking (that includes any aluminum decking by any mfr) should not be the sole roofing solution. Typically users apply a continuous membrane like BlueSkin or similar before installing the decking. If you are installing over living space the installation should be planned carefully.
---
Hello Ray The shipment arrived and everything in good order. I am impressed that it was wrapped so securely on the skid. And GoJit driver was very helpful - the 20 foot skid was placed at the front of his trailer. He managed with blocks of wood and using skid lifter sideways to inch it bit by bit down to the tailgate. That took a lot of muscle and patience. The driver was great - it made the unloading much easier rather than climbing up and walking down the trailer for each piece, walking back and climbing down again.. Thanks for a great job. Fred Wagner
Hello Fred, We are glad that you received your aluminum decking order and the driver was helpful. thank you very much for the review. If you need installation instruction for any of Craft-Bilt's products such as decking, railing, sunroom, patio cover, and awnings are here to download: https://craft-bilt.com/installation-instructions/ Thanks again
---
Craft Bilt sells quality products and I am spreading the word to our friends. I will also send you a picture of our deck when completed. Again Thank you very much Best Regards bil
Hi Bill, Yes, you are absolutely right, Craft-Bilt sells quality products 🙂 Enjoy your new aluminum watertight deck for many years to come. Thank you
---
Can't ask for any better. Nithi answered all of my questions and was very helpful in providing a list of materials and guidelines on installation. Jacques LeCavalier
Hello Jacques, Thanks. What a lovely review. Nithi is one of our customer service reps, and he will be happy to see your nice review about him. Thank you for purchasing aluminum deck material from Craft-Bilt.
---
Product has not been installed yet, but on visual inspection, the product appears to be of excellent quality Experience was amazing! From my first contact with Craft-Bilt, where I requested and quickly received samples, to the final delivery notification, everyone I dealt with was courteous, professional, friendly, and treated me as though I was a valued customer. Craig Wilson
Hi Craig, You are a valued customer to us. Thank you very much for the review. Our decking is the best decking material you can purchase in Canada and we manufacture it here in GTA. Thanks again.
---
Hi Nithi, ​​Project is looking good. See pictures. Once I finish lower deck I will come to you for railings. Thank you and your team for their help so far. Best Regards, Paul Hill
Hi Paul, The new deck images are awesome! Your decking and railing project is coming along very well. Let us know if you need any tips for the railing installation. Thanks again.
Craft Bilt Materials Ltd - Decks 4.4 out of 5 based on 11 user reviews.