4 – Track Stacking Windows Turn Your Porch Into a Screen Room AND a Sunroom
The four-track frame design allows the sections to stack behind each other, permitting the maximum amount of ventilation. You can stack the window sections to the top, the bottom or anywhere in between. And if it cools down or it looks like rain, you simply expand the sections… now you've got a three season porch!
What a great way to upgrade your existing porch or roof overhang into a combination sunroom / screenroom.
Heavy Gauge Construction
Our Grand Vista stacking windows feature maintenance-free aluminum and vinyl construction. High quality molded corner keys assure years of smooth, trouble-free operation.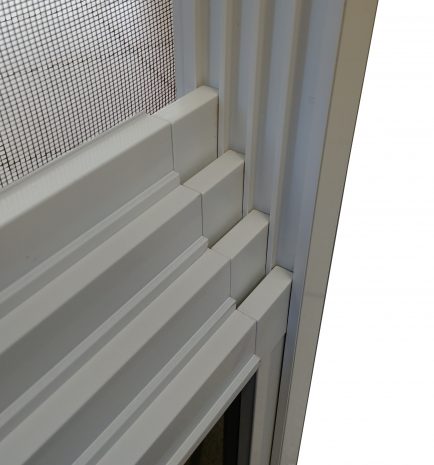 4-Track Stacking windows are custom made to fit your openings. Matching doors and transom lites are available. Choose from three frame colours: White, Sand, and Earthstone. Choose from three vinyl colours: Clear, Bronze and Smokey Grey. Click the Specifications tab above to see colour samples.
Unique Vinyl Glazing Withstands Impacts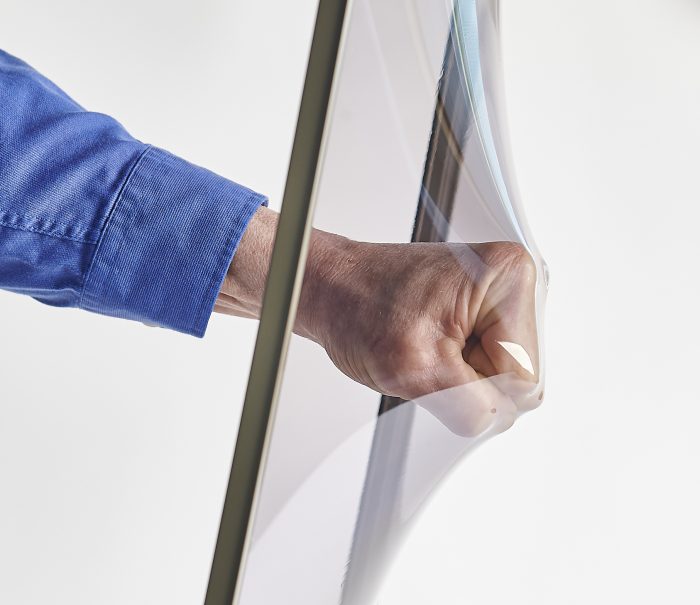 You can jamb your fist right into our heavy gauge 10 mil vinyl glazing with no ill effect. The space-age vinyl springs right back to its original position! Your safety is assured from flying objects like golf balls or children's toys. Vinyl glazing reduces glare, solar heat gain and protects your furnishings from fading due to UV.
Frequently Asked Questions
What is the 4 track stacking window?
There are 4 transparent panels, each with its own track. This allows all the panels to be slid behind each other, permitting nearly 75% screen area. So when the weather is nice and all you really want is a screen room, four-track stacking windows provide the most amount of screen area. The four tracks allow the panels to be stacked all the way to the top, bottom or any combination you can imagine. The panels are glazed not with glass but with a tough vinyl film. This film can be wildly distorted and in a few minutes will return to its original shape. The panels stay where you put them because each one is spring loaded. Sometimes we are asked if 4 track windows are available with glass, but this is not possible. Glass is too heavy, and the weight would overcome the springs ability to hold the panels in place.
Can I use stacking windows in my existing porch?
Yes! That is where many of our windows are used. If you have framed openings then all you need to do is order your windows based on the deductions mentioned in the FAQ below. If your porch is held up with columns with no other framing, Craft-Bilt can build a 4 track wall system complete with 4 track windows like this: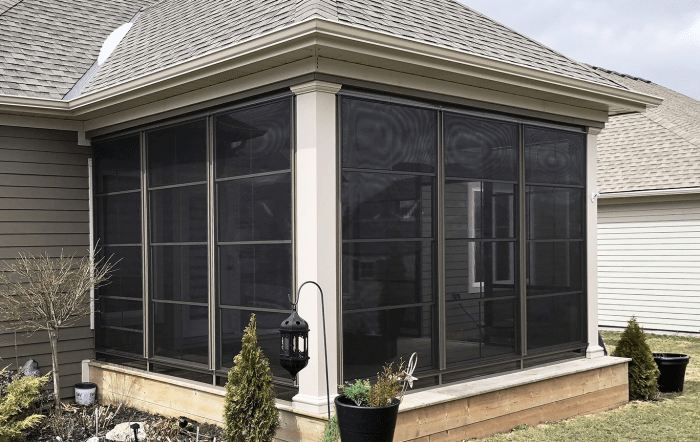 How do I measure for 4 track windows?
When ordering your windows we require the "make size", this is the size you need the window made so that it fits into the opening nicely. This usually means deducting 1/4 to 3/8 inches from your RO (rough opening). However, if the opening is not square, plumb or level additional deductions should be made. Check the width and height in a few places, and take your 1/4 inch deduction from the narrowest result
What colours are available for 4 track windows?
4 Track Vinyl Windows by Craft-Bilt is available in White, Sand and Earthstone.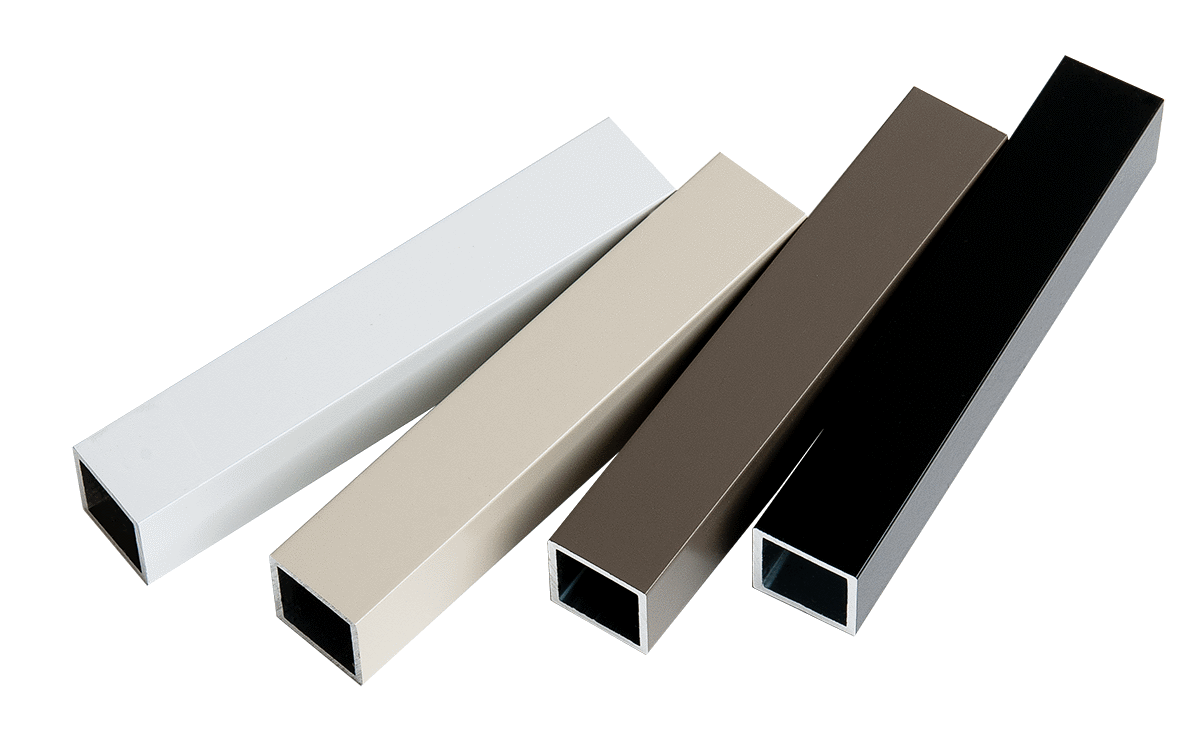 The vinyl film is available in the following shades: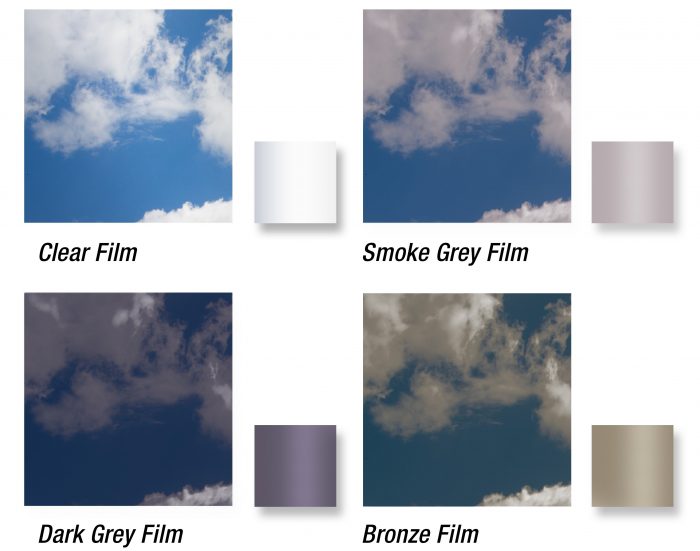 What is the warranty for 4 track stacking windows?
Craft-Bilt provides a 20-year limited warranty on the aluminum finish and 10 years on the vinyl film. Contact us for warranty details.
Can I install 4 track windows myself?
4 track windows install just like storm windows. There is a generous flange all around the perimeter that simply screws to your opening.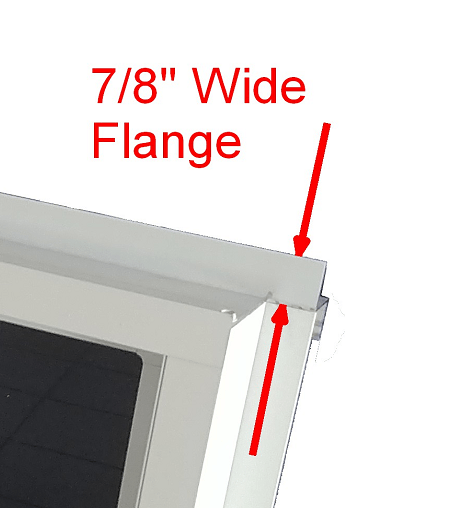 Colour matched screws are provided. Silicone sealant is available from Craft-Bilt but you can supply your own if you like. Apply a bead of sealant underneath the flange before installing. The sealant should be close to the edge, particularly at screw locations so that rain does not reach the holes made by the screws.
How do you replace the vinyl film in 4 track windows?
It is a simple matter to re-glaze your 4 track window panes. The film is rolled in just like screen. We can ship replacement vinyl film across Canada. Sometimes you can re-use the spline but if it is damaged or worn you can order that as well. While it is a simple matter to re-glaze your stacking window, you will find that the vinyl can be difficult to handle. Order extra vinyl so you have some material for practice and blunders. A hair dryer is handy to warm up the vinyl, making it easier to roll in to the grooves. There may be some small wrinkles when you are done, waving the hair dryer over the area often takes care of them. There are instructional videos on the internet to help.
How do you clean 4 track windows?
Do not use chemicals or harsh cleaners to clean the vinyl film. Mild soap and water are recommended. Contact us for our 4 track warranty and care instruction document.
How long does the vinyl film last?
The industry standard warranty on vinyl film is 10 years. However, we have had stories of the vinyl lasting well over 20 years. Contact us for our 4 track warranty details and maintenance.
Do you install 4 track stacking windows?
Craft-Bilt's core business is contractor sales across Canada. We do our own installations in a small radius around our factory in Ajax, Ontario. Your inquiry will typically be forwarded to a local contractor who will supply and install your stacking windows or 4 track wall system.
Can I use 4 track windows in my sunroom?
Absolutely! You can order our industry-leading Grand Vista sunroom with glass or 4 track stacking vinyl windows.