Grand Vista Three Season Sunroom Kits
If you are looking for a sunroom kit to install yourself, Grand Vista Sunroom Kits are an excellent choice. Wall sections are completely pre-fabricated, and tracks for the wall and floor are pre-cut. Grand Vista sunroom kits can be utilized for under existing installations such as porch enclosures.
What's Included
Pre-fabricated wall sections
3″ thick roof system with overhang all around
Patio door and hardware
Pre-cut tracks and trims
Printed installation instructions
Fasteners for floor channel and roof hanger
Silicone sealant
Touch-Up Paint
1 – Downspout, 3 – 'A' Elbows
Standard height front wall of 82¾"
Back wall height based on 1:12 pitch, approx 4½ degrees
Solid Kneewall panels 21½" high
Each wall section contains a side sliding single glazed window with screen
20 minutes hands-on installation training in our factory – pickup customers only
Contact us for installation instruction.
What You'll Need
Above average DIY installation skills
1 Helper
Tools  (Please click on Tool List tab)
A deck built to code, with piers below the frost line
Flashing for the deck and roof
FAQ for Sunroom kits
Q1 – How difficult is it to install a Grand Vista sunroom kit?
A1 – You should be a competent renovator. The wall kit needs to be installed on a level floor. The tracks on the wall will allow for deviance from plumb of ¼". The roof system needs to be installed to a structurally sound wall in a way that will support the local snowfall.
Q2 – How long will it take to install a sunroom?
A2 – On a properly built and level deck, two trained installers can install most rooms in one day. A second day may be required to finish up things like, roof flashings, downspout & elbows, making sure all the screws are in place as per the installation guide and site clean up. A DIY'er team should allow an extra day.
Q3 – What colours are available for sunroom kits?
A3 – Sunroom kits are available in white colour. However, Sand and Earthstone colours are available with longer lead times. Please inquire for details at (800) 668-6430.
Q4 – How long does it take to receive my sunroom after I order?
A4 – During our busy season, April to July, our goal is to have your order ready in 4-5 weeks, at other times of the year  3-4 weeks. You can pick up your order but make sure you have a truck & trailer capable of fitting the wall sections and roof panels. Shipping can take anywhere from 2-7 days depending on how far away you are from Toronto.
Q5 – What happens if materials are damaged during transportation?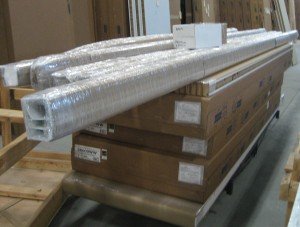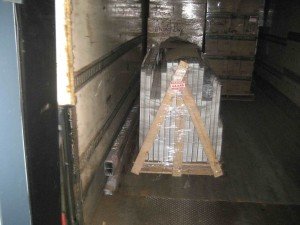 A5 – We pack your sunroom shipment very well, but should the unthinkable happen, it is VERY important that you indicate on the shipping receipt that the shipment is damaged and take pictures before opening any packages. The trucking company will ask for the pictures and may send an adjuster to view the shipment. If you know an adjuster is coming, don't open the packages, he'll want to see them as they came off the truck. If these steps are followed, then Craft-Bilt will be able to make a claim with the truckers insurance company, and we'll be able to send replacement parts right away. Of course, we'll need the pictures too so we can be sure of the parts you need.
Q6 – Can you ship to my house?
A6 – We can ship anywhere in Canada. Carriers usually charge extra for residential delivery. For example, a typical 12′ x 12′ room with the roof can be shipped to Sudbury, Ontario for $400 – $500. Once you have decided which sunroom design is right for you, we can provide your shipping cost.
Q7 – Do I need to obtain a building permit for the sunroom?
A7 – Yes. Building permits are the responsibility of the homeowner. Craft-Bilt can provide standard load tables and connection details. You, or a design service that you hire, should prepare drawings specific to your job, with details of your home, deck and the sunroom. Craft-Bilt's standard load tables and connection details are proprietary documents, they can be shown during pre-sales discussions with copies provided when you make your purchase.
Q8 – What if I need help during the sunroom installation?
A8 – Installation instructions are supplied with your order. If you have above average DIY installation skills, our instructions will be easy to follow. Here are some basic installation instructions to give you an idea of how the wall installation begins. Plus, when you pick up, ask for our 20-minute hands-on tips and tricks service. Our primary business is contractor sales. We do not have the resources to teach basic construction knowledge and we do not have installers or service personnel that can go to your job. That being said, we are happy to answer concise sunroom installation related questions.
Q9 – What is the warranty on Grand Vista sunrooms?
A9 – Craft-Bilt's warranty applies to a properly installed product that meets local building code. Installation warranty is normally provided by the contractor, in this case, that's you! For instance, a leak caused by improper sealing or flashing is an installation issue and not covered by our warranty. A leak should be remedied right away to make sure it does not affect warranty coverage.
Please Note:
The building permit is your responsibility. Craft-Bilt has standard connection drawings and load tables available to submit with your application. Any additional work to assist with your permit will be charged. The Roof supplied with your sunrooms kit has an EPS (foam) core. A few jurisdictions in Ontario and Alberta take issue with the foam core. In these jurisdictions, it is appropriate to use our honeycomb core panels which are slightly more expensive. You are responsible for the selection of the appropriate roof system for your locale. Pressure treated wood will eat away at untreated aluminum, the unpainted underside of the flashing must be isolated from the PT wood with a suitable barrier.